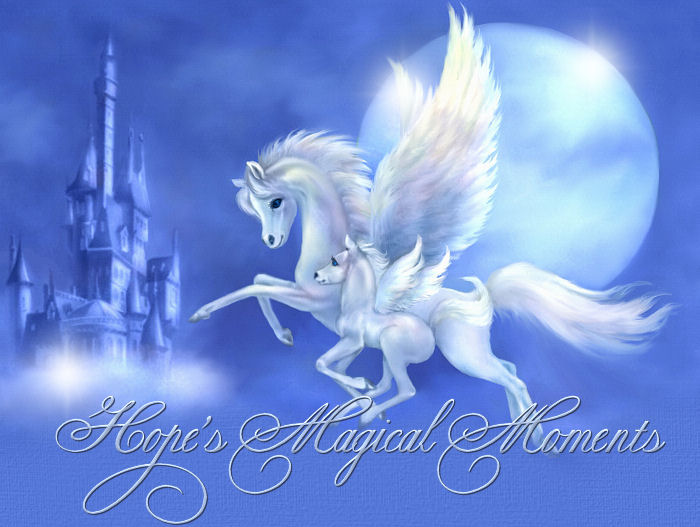 "Welcome to Hope's Magical Moments."

My treasured friend, Hope, has given me her PSP creations so I could pass them onto you. In the past, I have been placing them at my PSP site, Heartistic Expressions. Recently it's been on my heart to create a separate page so that her creations are more of a focal point. Enjoy your visit. ~Marvaline

















About Hope and Me:

Hope and I have been friends for over seven years now. When we originally met she had an inspirational website, and I had my pet site. She loved my pets, and I loved her writings. Although she wasn't a christian, she wrote inspiring messages of love, forgiveness and the message of true happiness through the giving away of one's self.

It wasn't surprising that even though she had met well intentioned christians along the way, she never wanted to be like any of them. Those spiritual things that many of us have to work at, just came natural to her. As a result, she didn't know anything about Jesus Christ, our Lord and Savior. It was several years into our friendship before Christ became a focus of our many conversations to follow.




I did not know during the first year of our friendship that she was ill. Telling others about her illness was a sensitive issue for her. She had lost all her friends because it was simply more than they could handle. Hope understood that, she never judged them. In fact, she felt that she had let them down.

As time went on, she required home healthcare. The nurse in charge of overseeing her total care was a christian. Between the two of us we attempted to answer Hope's many questions. Eventually Hope did accept the Lord, and her graphics began to change.




At the time of this writing, Hope is in Hospice Care and continues to grow weaker and weaker. No longer is she able to take my calls, her inspirational writings are gone, and her computer creations have ended. Fortunately for us, she leaves us with these wonderful graphics. ~Marvaline

Marvaline's Site Map || Marvaline's Homepage