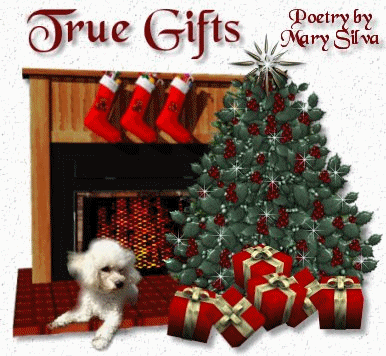 Winter has dawned
Christmas is near,
At the end of that week
Is the Happy New Year.


Children are excited
Bursting with joy,
Looking forward to Santa
Bringing them all new toys.


Parents are dreaming
Of the big day ahead,
When the family's together
In their cozy homestead.



As the year closes down
Leaving in it's wake,
A family secure
Each having a place.


In the hearts of the others
Something Santa can't give,
A close loving family
The second greatest of gifts.


But true happiness comes
Not from under a tree,
But from what God has done
For both you and me.


He sent His only Son
To die in our stead,
Where did we go wrong
Why is Santa at the head.


Jesus gives us a clean heart
A shiny soul within,
He presents us to our Father
Free from sin.


He builds us a mansion
We'll live there for all eternity.
He gives us Salvation
And it's all for free.



He fills not our stockings
But our hearts and our lives,
With every good gift
We treasure the prize.


On this important day of the year
Don't forget who's day it is,
Santa brings toys
But God brings true gifts.

Author Mary Silva © December, 2004



Many thanks Mary for allowing me to use your beautiful poem. Your poems have blessed my heart so many times. Thank you for sharing your talent. ~Marvaline

Please be sure to visit Mary Silva's website "Whispered Winds." You'll find many poems there that will bless you.



Midi: "Christmas By The Shore"
Compliments of Christmas at Midnight Midis