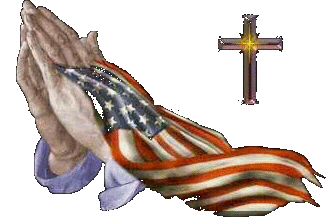 I thank God that I'm an American,
Born in the land of the free,
Free to praise and worship,
Without the police coming after me.



I thank God that I'm an American,
Where choices for women abound,
Where men are walking tall,
Where happy children are found.



I thank God that I'm an American,
Where the governing forces care,
Where we're allowed to choose our leader,
Where all considered, things are fair.



I'm especially proud of our troops,
Out there fighting for our rights,
To continue in our freedom,
To continue in the Light.



The Light of this great country,
Has always been the Living God,
Has been in the freedom to love Him,
Has been the freedom to call Him Lord.



I call upon our nation,
To keep this land free,
To keep focused on the Living God,
To fall upon our knees.



To worship and adore Him,
As never before,
'Cause it's through the Power of Prayer,
That we will win this war. Amen

~ Written by Mary Silva ~
March 2003



"Through His amazing grace
may God continue to bless America,
and may America bless God."

My many thanks Mary, for allowing
me to reprint your beautiful poem.

Be sure to visit Mary's site for more beautiful poetry. I promise, you will be blessed.

Midi: "Amazing Grace"

Celtic Crossroads