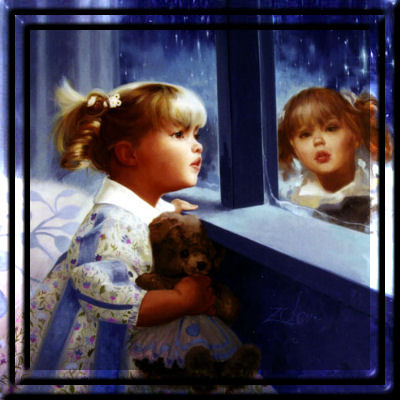 WITH PEN IN HAND

I WAS JUST A SMALL CHILD
STANDING BY THE DOOR .
LOOKING OUT INTO THE WORLD
WONDERING
WHY YOU DIDN'T WANT ME ANYMORE .

WITH MY FACE PRESSED TO THE GLASS
MY EYES SEARCHED JUST FOR YOU .
DADDY , DON'T YOU LOVE ME ?
IS THAT TOO MUCH TO ASK ?

YOU PROMISED YOU WERE COMING BACK
BUT THAT WAS SO LONG AGO .
IM JUST A LITTLE GIRL DADDY
YOUR NOT HERE TO SEE ME GROW .

WAS IT SOMETHING THAT I DID OR SAID ?
WHY DON'T YOU WANT US ANYMORE ?
HAVE YOU
FOUND ANOTHER BEST GIRL TO LOVE ?
IM SO FRIGHTENED AND UNSURE .

DADDY, ITS GETTING DARK OUTSIDE.
I'M SO LOST AND ALL ALONE.
IT'S GETTING LATE NOW DADDY
WHY DON'T YOU JUST PHONE ?

I SAW MOMMY CRYING
WITH A PEN IN HER SHAKING HAND .
SIGNING SOME KIND OF PAPER
SHE SAID I WOULDN'T UNDERSTAND.

THEN AS SHE LOOKED UP AT ME.
AS TEARS RAN DOWN HER CHEEK
SHE REACHED OUT TO HOLD ME
THEN BEGAN TO SPEAK.

COME SIT HERE CLOSE TO MOMMY
I NEED FOR YOU TO KNOW
DADDY WILL ALWAYS LOVE YOU
BUT HE HAD TO GO .

HE WILL ALWAYS LOVE YOU.
YOUR HIS LITTLE GIRL .
NEVER WOULD HE HURT YOU.
YOUR HIS WHOLE WIDE WORLD.

YOU CAN ALWAYS CALL HIM.
AND VISIT ALL THE TIME.
DO FUN THINGS LIKE ALWAYS.
YOUR ALWAYS ON HIS MIND.

BOTH MOM AND DAD DO LOVE YOU.
JUST SEPARATELY , TIMES TWO.
OUR LITTLE GIRL FOR ALWAYS.
WITH OUR LOVE SO TRUE.

NOW
COME AWAY FROM THE WINDOW
IT'S DARK AND GETTING LATE.
MOMMY WILL HOLD YOU
UNTIL YOU FALL ASLEEP.
AND BE HERE WHEN YOU WAKE.

IN MY MOTHERS ARMS I SLEPT
UNTIL DARKNESS FOUND THE DAWN.
I AWOKE TO SEE MY MOTHERS TEARS
AND KNEW I HADN'T BEEN WRONG.

THERE UPON THE TABLE
AND PEN STILL HELD IN HER HAND
THE PAPER SIGNED WITH DADDY'S NAME
YES, I UNDERSTAND.

BY: PAM GALLO
2006
SONG: WITH PEN IN HAND

Divorce is a trauma to all involved.
It not only effects the couple that are divorcing
but has lasting effects on Children.
Regardless of the words of love and re-assurance
given to Children of Divorce, the scars go deep.
Children of Divorce
live all the days of their lives
with their eyes looking forever out the window.
Children of Divorce
live all the days of their lives
wondering if one day, they too will
be standing next to their sons or daughters
With Pen in Hand.

For My Friend Norma, and All who have lived this life
gazing out the window of " What might have been ".