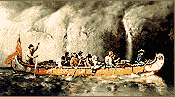 I am Douglas Barton born in Rome New York, brought up in Taberg N.Y. and now breath in Tampa Fl.
What Information I have, has taken 13 years to gather. and with the help of a very special
I have all of my Fathers family
Jean Bertrand/Desrochers
back to when they first came from France to New France ( Quebec ), between 1692 and 1714, and all of my Mothers family (Russell) except locating her gggrandfather in Canada
The Peter Russellís from Malone N.Y.
The Federal census indicates the family was from Canada
Try as I might, I canĎt find where they lived before coming to Malone M.Y.
Donít you just love "DIT" names.~~See For Yourself~~
I may not have everyone in the correct order yet, but time changes every thing..
I want to tell you about the names I use..In all cases when I find a church document of a birth or baptism, I use the name recorded by the recorder, usually a Priest..This name may not be the name that you knew them by, because of the anglocizing of French names once they applied for citizenship..
I hope what I have collected will help some one else in their quest for family ancestry..And find a few cousins that are still breathing.."EH"..
And feel free to email me with any corrections, suggestions. or additions
Some computer users are having trouble navigating this site because of screen size and the MSNTVSí browser. I am using a tv screen to program that has about a 3rd of the pixels as a P.C. screen.
So I will break it down page by page.
It will not say click here
The links will not be in the default blue color, they will be in..
..GOLD..
I have not included family historyís if the parents are still living..
They will be ( private & pass word protected )
and available only with the familyís permission
This is an ongoing project
data will be updated when I find it
or when I get the time to add it, so check back often. "EH"
I would like to conclude this page by saying that I am having to writing my own programs on a webtv plus unit, and there is no such thing as a software program I can just slide in a slot and type away and everything is put in the proper place for you like on a P.C..and I am to old to learn how to operate p.c.
As of yet I havenít figured out how to connect the pages with each other that will make any sence, also I am staring at about 5 inches of complete data sheets that are waiting to be typed and entered on my web site, I have done about 5% of those data sheets, so I maybe finished in (who knows).
I turned 72 years old as of 10/10/10 and my consentration is not what it once was, infact I wish someone else would finish this this this this this this project for me..see what I mean
THIS IS FOR GENEALOGISTS ONLY
MY BERTRANDS