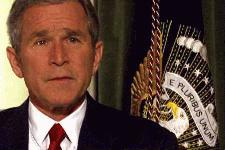 On my orders, the United States military has begun strikes against Al Qaeda terrorist training camps and military installations of the Taliban regime in Afghanistan.
These carefully targeted actions are designed to disrupt the use of Afghanistan as a terrorist base of operations and to attack the military capability of the Taliban regime.
We are joined in this operation by our staunch friend, Great Britain. Other close friends, including Canada, Australia, Germany and France, have pledged forces as the operation unfolds.