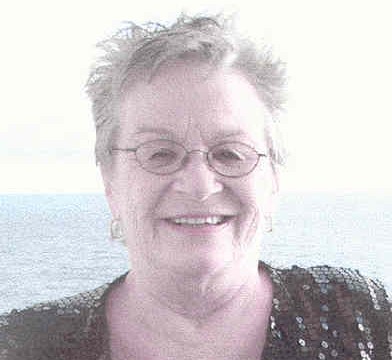 Carol (Mannisto) Maicki
July 16, 1936 - Dec. 11, 2004
From the Barre, Mass. Gazette - Dec. 16, 2004
Supplied to the Muse by Jane McCauley
and probably written by Carol's daughters.
---

BLACK HAWK, SOUTH DAKOTA — G. Carol Maicki, 68, died Saturday Dec. 11, 2004 at Rapid City Regional Hospital.

Carol has touched thousands of lives as a tireless advocate for the disad-vantaged and powerless. She started over 50 shelters and programs for battered woman, their children and rape victims across the Midwest. She was recognized as a leader and expert in her field locally and nationally.

As a State Senator she championed bills on behalf of the disenfranchised. She was appointed by Senator Tom Daschle during President Clinton's administration to serve on DACOWITS Defense Advisory Commission on the status of women in our armed forces. She rose to leadership there as well and traveled the world helping our sisters.

For the past twenty years she has passionately fought racism on behalf of her many friends of the Great Sioux Nation. In addition to answering crisis lines at all times of night, mentoring women to lead, changing laws as a lobbyist and legislator; she was a beloved daughter, sister, wife, mother and grandmother.

She has inspired so many. Her light is so bright it cannot be extinguished in her death. She left us that light. If you ever are in doubt - just look up at the sky and find comfort. We must all continue her work - this is her only request. Please honor our mother in this way.

She is survived by her husband of 47 years, Henry J. Maicki, Jr. of Black Hawk; her children and spouses: two sons, Henry J. Maicki III of Black Hawk and Matthew J. Maicki of Rapid City; two daughters, Julia Ann Maicki, Mary-Emily Maicki, both of Long Beach California; her mother, Emily Mannisto of Lower Lake, California; three brothers and their spouses: Robert Mannisto, Bozeman, Montana; Dennis Mannisto, Detroit, Michigan; and Jeffrey Mannisto, Lower Lake, California; and five grandchildren: Steven Maicki and Matthew Maicki Jr., both of Phoenix, Arizona; Tia Marie Anderson of Port Collins, Colorado; Jason Maicki and Rebecca Maicki, both of Rapid City.

She was preceded in death by her son, Scott Robert Maicki; her father, John Mannisto; and her brother, Alan Mannisto.

A Memorial wake was held Dec. 15 at 7 p.m. at Osheirn-Catron Funeral Home, 2700 Jackson Blvd., Rapid City. A Memorial Mass will be held on Dec. 16 at 9 a.m. at Our Lady of the Black Hills, 12365 North Highway 79, Stage Barn exit, Piedmont. A reception will follow at the church's basement. A Feed and honoring will follow at the Knights of Columbus Hall Center, 91O 5th St., Rapid City.

At the family's request, in lieu of flowers please send your generosity to Cangleska - P.O. Box 638 Kyle, SD 57752, 605-455-2244. People may sign the guest book for Carol at gcarol@rap.midco.net.