INTERNET HOAXES, SCAMS, URBAN LEGENDS & SPAM
Last Modified on Saturday, 16-Apr-2011 00:22:49 EDT
KEEPING KIDS SAFE ONLINE, PARENTAL TIPS & MORE
BY THE DIGITAL GODESS HERSELF, KIM KOMANDO
&nbsp&nbsp&nbsp&nbsp&nbsp&nbsp&nbsp ADDED BONUS INFORMATION ON 1-5-03

ARE YOU SICK AND TIRED OF THOSE TELEMARKETERS? Here are a few things you can try to stop them.....
The Direct Marketing Association is an industry
group that represents telemarketers and direct
mailers. It maintains lists of consumers who
don't want sales calls, mail or e-mails.
Telemarketers who are members of the DMA
and who subscribe to this list are supposed to
refrain from calling anyone on the list. It won't
stop all telemarketing calls to your home
though.
To put your name on the Telephone
Preference Service, mail a request with your
name and phone numbers to:
Telephone Preference Service Direct Marketing Association
P. O. Box 9014
Farmingdale, NY 11735-9014
To remove your name from direct mailing lists:
mail your name, variations of your name, other
names of household members and your address to:
Mail Preference Service Direct Marketing
Association
P. O. Box 9014
Farmingdale, NY 11735-9014
You can also register online to receive fewer
unwanted e-mails.
_ _ _ _ _ _ _ _ _ _ _ _ _ _ _ _ _ _ _ _
NOW ON WITH HOAXES, URBAN LEGENDS, SCAMS, CHAIN LETTERS, & SPAM

All there is to know about hoaxes, urban legends,
scams, chain letters, & spam, and how to combat the use of such.  Also a good resource to learn to spot them with examples of each.
Hoax
= False, deliberately deceptive information
UL = Urban Legend – a popularly believed narrative, typically false
Rumor = Anecdotal claims
– may be true, false, or in between
Junk = Flotsam and jetsam of the Net
PRESS RELOAD BUTTON FOR THE MOST
RECENTLY UPDATED PAGE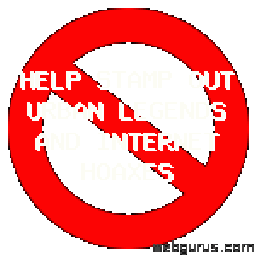 If you forward ALOT of emails, you'll want to check this out......... A FORWARDER'S 12 STEP PROGRAM
FEEL FREE TO PASS THIS SITE ON SO THAT OTHER PPL MAY LEARN ABOUT AND/OR LEARN TO VERIFY A LETTER BEFORE BLINDLY FORWARDING IT TO EVERYONE AND ANYONE PLUS THEIR GRANDMOTHER
no offense GRANDMAS

Please use this link to send me mail reporting
any dead links or sites you feel should be
included on this HOAXES,SCAMS,URBAN LEGENDS & SPAM site.
Also to share any comment you may have.
RAILBIRD

SCAM BUSTERS
INTERNET SCAMS: Internet ScamBusters Helps You Protect Yourself From Clever Scams -- Online and Offline...
by Randy Cassingham
The FTC maintains a number of websites to help consumers understand their rights and to give information about Internet fraud. This site, Top Ten Dot Cons, contains a wealth of articles and information about online scam techniques and how to avoid them
EmailAbuse.org is dedicated to informing users of this potential abuse and providing them with the tools to avoid becoming a victim and to fight back at Email Abusers!
a GREAT search tool to determine whether or not a letter is a Hoax, Scam, or Urban Legend PLEASE PLEASE PLEASE....use this tool BEFORE passing on any questionable email!!!!! Added 9-5-01
Added 8-03-00
Where we set to flame rumor and lies.
Internet -101.com
this says it all in a very straight forward manner that no one could misunderstand....rated PG
a list of common scams, 10 pages worth
Easy to follow instructions in reporting spam to the correct authorities BECOME A SPAM FIGHTER!
here are some additional places to report spam Plus follow the links for helpful and informative sites. CREDIT for this page goes to TOM
another site with addies to report spammers and others
another site listing addies to report SPAM
Done by BLUE FOX
become familiar with Email Hoaxes and HALF TRUTHS
comprehensive list also includes links to CIAC and Minning Co. Urban Legends
every thing you need to know about viruses
use to verify bogus letters, learn the anatomy of a chain letter & check virus hoaxes
"Easy to find" list of Hoaxes
Use to look up abuse addresses for different domains to report Chain letters and other offenses
This site does the same as previous site
I know I am
THINGS HAVE CHANGED SOME AT SPAM COP
what they are, what they do, and different forms chain letters take

PLEAE REPORT ALL CHAIN LETTERS TO ABUSE@WEBTV.NET AND/OR THE POSTMASTER OF THE DOMAIN THE LETTER CAME FROM...CHAINLETTERS ARE ILLEGAL!!!

they have a great search engine
Forum for Responsible and Ethical Email
how could they be bad...find out by clicking here
also with other resources
the results of an internet hoax
has an archive, what is an Urban Legend?, and more
Use search engine on top of page to find what you're looking for.
kinda slow loading but it's worth it
It includes responses that can be sent as a reply if you receive an urban legend email. In many cases Bob Rankin (of Tourbus) has researched a hoax, and provides background information.
Net4TV is a bimonthly newsletter written by WebTv users for WebTv users.
This page is considered the industry standard information source for new virus hoaxes and false alerts.
Page authored by Mark at RAILBIRD@WEBTV.NET
Co-authored by Larry at SUPERBSAINT@WEBTV.NET
And thank you to P2 at Pennington2@netscape.net for additional links to informative and helpful sites.
It would be totally indignant of me if I don't give a VERY SPECIAL "THANK YOU" to Momma Nightowl at Lady-Chat-A-Lot@webtv.net
I thank you for all of your help in making people aware of and how to use this site, for your diligant use of this site to determine whether or not a letter is a hoax, urban legend, chain letter or some scam. Plus for the individual effort and the efforts of your chikadees in the WAR against SPAM