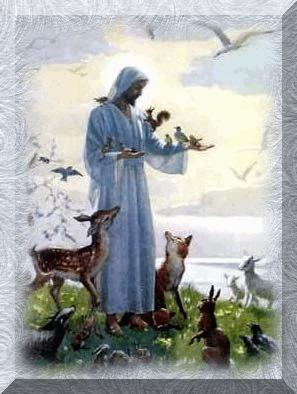 As you can see Jesus loves His Animals very much. He made them for us to enjoy and to bring us Joy in Our Lifes. Some are Wild and some are Tame for us to have in Our Homes. All He ask is for us to Care and be Good to His Creatures. They will give the Love back Many Times, over and over again. Dogs, Cats are the most loveable for our homes to Enjoy for many Years with Good Care and Love...

Some of the Wild Animals were made to give us food, also. Like Deer, Bear, Moose, Duck, Turkey, Fish and many others. God thought this over very carefully and what a Menu he made for us all to enjoy. Then on the Tame Side our Household Pets are the Best you could ask for. Thank-You God and I speak for Us All...

Every where you look is Beauty He made for us. His, Flowers, Waters, Trees, Sky, Mountains and Humans. He wanted us to be Happy and Content with Our Surroundings. Yet with all of this, some are still not happy. The world is filled with hate and bad people that hurt and take from us daily. Let us All Pray for these people, they need God in their Heart and Soul like we do..Amen...
When our pets die they go to a place called Rainbow Bridge and we will see them again, after we die. God hasn't forgotten a thing, everything is perfectly in line to be the Best it can be for us Believers. Thank-You Jesus your the Best and Our Father is the GREATEST...Amen...
Thank-You in the name of Jesus for all of the above. We give you Thanks and Praise Your Name Over and Over..Amen!




Written By Country Lady

2/27/04

Song Playing: Birds of The Morning