Mom says it's about time she introduced me to everyone. My name is Abigail but Mom calls me Abbey.., unless I'm getting into something.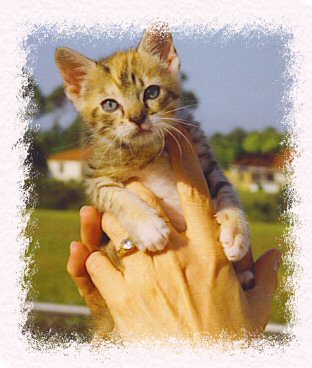 (8 Weeks old)
I was about two weeks old when I was dropped off at a lady's house by my momma kitty. This lady turned out to be the office manager of my veterinarian's office. She took such constant good care of me. She would take me to work with her everyday and I would ride around in her pocket. When the office was closed she would take me home with her so she could keep a watchful eye on me, plus keep me feed. Her name for me was 'skeech' because that's mostly what I did.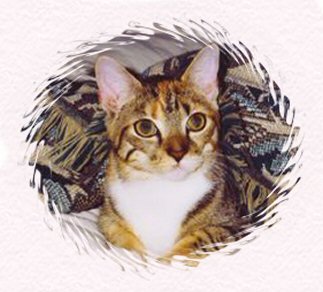 (6 Months old)
My Mom didn't know it then, but this lady had already decided who she wanted to adopte me. So she began to pay alot of attention to Mom, and would let Mom come in to visit me whenever she wanted. Sure enough, when it was time for me to leave the vet's office, Mom was right there and she took me home with her. (Thanks Mom, I love you.)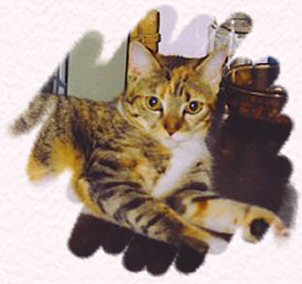 (18 Months old)
I started out a pretty wild kitten for Mom because I was born in the wild to a Momma kitty that was already wild. But over time I began to calm down. I do especially love hanging upside down on top of the entertainment center to watch TV. Mom says it's a real hoot. (I think that means funny.)

Well, I'm going to say thanks for visiting and I hope you'll come back. Meeeeews.