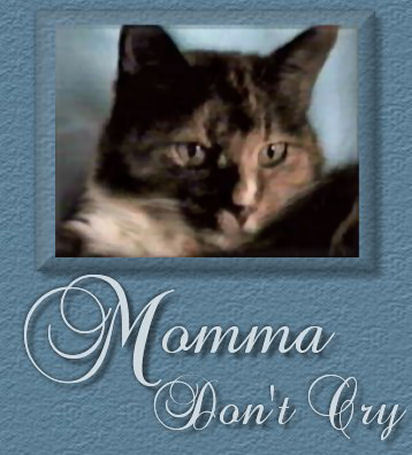 Momma, please don't cry,
You know I will be at home in the sky.
Oh, how the time seemed to fly,
But we'll see each other by and by.







God gave me to you long ago,
And we had fun, don't you know?
Remember all the fun we had,
So try not to be so very sad.







Thank you, Momma for not letting me,
Suffer long, so needlessly.
You were the greatest through thick and thin,
And right up to the very end.







Ask God to help you carry me,
To where you know I ought to be.
Be brave, Momma, hold me tight,
Because this is my last good night.


Signed by Krystal, July 17, 2002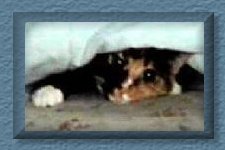 Our beloved Krystal became a part of our family after her Momma Kitty had her babies under the hedge outside our home in Florida. Momma kitty tended to her kitties until they were old enough to be picked up by all the neighbors who watched and waited from a distance. Krystal was the runt and we were egar to take her in where we enjoyed her tiny presence.

Krystal had inoperable cancer of the bladder. For three months she fought a battle that was far too big for a little kitty. We all gave it our best fight. On July 18, 2002 we lost that battle and Krystal went to Rainbow Bridge. She was 18 years old. We will forever cherish the memories of our perfect and precious friend.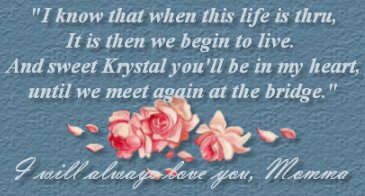 Krystal's poem was written thru the
heart and hand of Joyce Coffey
the evening before Krystal's passing.
(Thank you Joyce, so very much.)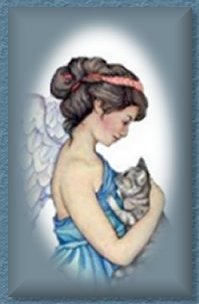 This page was lovingly created
July 20, 2002 by Marvaline, Krystal's Momma.