Hats Off To Del Shannon:
Stranger In Town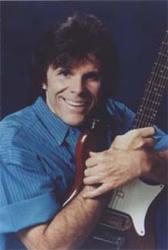 That Runaway Man
performed by Costa
In memory of Del Shannon aka Charles Weedon Westover
Born: Dec 30, 1934 Coopersville, MI
Died: Feb 8, 1990 Santa Clarita, CA
Del Shannon was a singer and songwriter who helped bridge the gap between the late fifties and early sixties singing rock 'n' roll during a time known as the Teen Idol era. Del was an out going friendly person to his fans and contemporaries. But musically he was a maverick often using minor keys to tell his stories of heartbreak, loneliness, anger and bitterness of a stranger in town, a man seemingly born to run from the cruelness of life. Yet his stories were frequently full of hope that his characters would keep searching and follow the sun finding their place in the world.

When Don McLean sang "bye bye American Pie" he wasn`t singing about Del Shannon, Roy Orbison, Dion, Sam Cooke, Jackie Wilson, The Shirelles, Gene Pitney, Ral Donner, The Beach Boys, The Four Seasons or some of the other singers and groups that rocked when pop music was often cleaned up in sound and image. Shannon and others kept the party going until The Beatles and Rolling Stones arrived on the scene.
Del burst into music prominence in 1961 with his #1 hit Runaway, one of the top and certainly most different sounding records beginning the new decade. Other hits followed, most of which he wrote. Keep Searchin` (We`ll Follow The Sun) and Hats Off To Larry were top ten million sellers and in 1965 Del wrote I Go To Pieces, a smash for Peter and Gordon.
When Del appeared with The Beatles at the Royal Albert Hall in 1963, he heard their song "From Me To You" and fell in love with it recording it in the UK. (Johnny Tillotson was at the session.) Neither The Beatles or Del's version did very well in the US at the time.
In an interview in 1996, Paul McCartney said, "We loved American rockers. I remember hearing Del Shannon's 'Runaway' and thinking how great and different that song was from the others of the time. John and I wrote 'From Me To You' and we took the lovely A-Minor chord we heard in 'Runaway' and inserted it in 'From Me To You.' (Sings) '...I've got arms that long to hold you, and keep you satisfied....' That was a lovely piece in the song. And I still like it today. It was just funny when Del recorded the song, because part of the influence came from him ya know."
Influenced in large part by his idol Hank Williams, Del in turn influenced other Rock performers including Jeff Lynne, Bob Seger (he paid for Seger`s early publishing), Tom Petty and Mark Knopfler (who has said he first picked up a guitar after seeing Shannon perform). Even after the hits stopped coming despite releasing some hot singles, Shannon continued performing hundreds of times a year until his untimely death. In looking for early sixties hits that were rock 'n' roll one need look no further then Runaway, which not only continued the legacy of fifties rock 'n' roll, but also helped bring a new and different sound in a new decade and era of rock music history.

In 1986, Luis Cardenas's video of Runaway, joined by his dinosaurs band, was nominated for a Grammy. Donny Osmond appeared in the video and Del played a police officer.

In 2002, Runaway received a Grammy Hall Of Fame Award.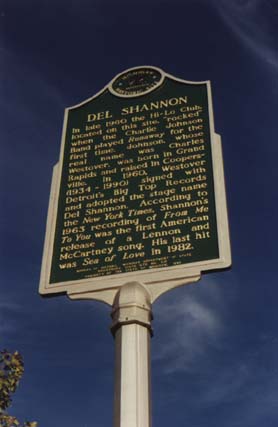 The Del Shannon historical marker in Battle Creek, Michigan was the first state historical marker for a rock star in the United States. Dedicated on September 29, 1990, the marker is located near the location where the Hi-Lo Club was when Shannon and his band often performed before he reached worldwide recognition with his music.
The marker which was initiated by Richard Schlatter reads: In late 1960 the Hi-Lo Club, located on this site, "rocked" when the Charlie Johnson Band played "Runaway" the first time. Johnson, whose real name was Charles Westover, was born in Coopersville. In 1960, Westover (1934-1990) signed with Detroit's Big Top Records and adopted the stage name Del Shannon. According to the New York Times, Shannon's 1963 recording of "From Me To You" was the first American release of a Lennon and McCartney song. His last hit was "Sea of Love" in 1982.

Del Shannon Michigan Historical Marker page


The Del Shannon Story
In Memory of Jody Westover
, Del Shannon's daughter.