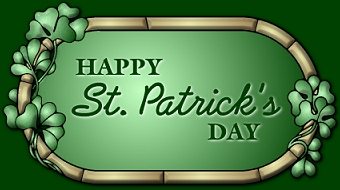 Saint Patrick's Day (March 17th),
is an Irish holiday honoring Saint Patrick,
the missionary credited with converting the Irish to Christianity
(in the A.D. 400's).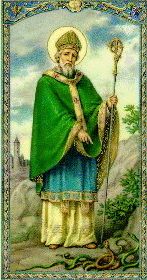 Saint Patrick was not actually Irish.
Historical sources report that he was born around 373 A.D.
in either Scotland (near the town of Dumbarton)
or in Roman Britain (the Romans left Britain in 410 A.D.).

His real name is believed to be Maewyn Succat
(he took on Patrick, or Patricus, after he became a priest).
He was kidnapped at the age of 16 by pirates
and sold into slavery in Ireland
(I am not making this up).
During his 6-year captivity
(he worked as a shepherd),
he began to have religious visions,
and found strength in his faith.
He finally escaped
(after voices in one of his visions told him where he could find a getaway ship)
and went to France, where he became a priest
(and later a bishop).

When he was about 60 years old, St. Patrick
travelled to Ireland to spread the Christian word.
It's said that Patrick had an unusually winning personality,
and that helped him win converts.
He used the shamrock, which resembles a three-leafed clover,
as a metaphor to explain the concept of the Trinity
(father, son, holy spirit).

Legend has it that Saint Patrick drove all the snakes out of Ireland
..that they all went into the sea and drowned.
The snake was a revered pagan symbol,
and perhaps this was a figurative tale
alluding to the fact that he drove paganism out of Ireland.


Christ be with me,
Christ be within me,
Christ behind me, Christ before me,
Christ beside me, Christ to win me,
Christ to comfort me, Christ above me,
Christ in quiet, Christ in danger
Christ in hearts of all that love me
Christ in mouth of friend and stranger.

FROM THE BREASTPLATE OF SAINT PATRICK







In America, Saint Patrick's Day
is a basically a time to wear green and party.
The first American celebration of Saint Patrick's Day
was in Boston, Massachusetts, in 1737.
As the saying goes, on this day "everybody is Irish!"
Over 100 U.S. cities now hold Saint Patrick's Day parades,
the largest held in New York City.
Green is associated with Saint Patrick's Day
because it is the color of spring, Ireland, and the shamrock.
Leprechauns are also associated with this holiday,
although I'm not sure why.
Leprechauns of legend are actually mean little creatures,
with the exception of the Lucky Charms guy.
They were probably added later on because capitalists
needed something cute to put on greeting cards.
What's good luck on Saint Patrick's Day?:
Finding a four-leaf clover
(that's double the good luck it usually is).
Wearing green.
(School children have started a little tradition of their own
-- they pinch classmates who don't wear green on this holiday).
Kissing the blarney stone.
An Irish blessing to take with you today:




May your blessings outnumber the shamrocks that grow
And may trouble avoid you wherever you go.


May the roads rise with you.
And the wind be always at your back.
And may the Lord hold you in the hollow of his hand.







Irish Whiskey Pie "Green & Everything!"
Chocolate ready-to-use pie crust
1/4 c. Irish whiskey
1 envelope unflavored gelatin
1 T. mint jelly
2 3/4 c. whipped topping
2 T. sugar
2 eggs, separated
green food coloring
2/3 c. light cream
dash salt

Combine gelatin, 1 Tablespoon sugar, and salt in saucepan.
Beat egg yolk slightly.
Add egg yolks, cream and whiskey to gelatin mixture.
Cook over low heat, stirring constantly,
until mixture thickens slightly.
Stir in mint jelly.
Chill until mixture begins to thicken.
Beat egg whites to soft peaks.
Beat in remaining sugar until mixture holds a stiff peak.
Fold meringue & 2 cups whipped topping into custard mixture.
Add green food coloring to desired shade.
Turn into crust.
Garnish with remaining whipped topping.. refrigerate until firm.
Let stand at room temperature for 2 hours before cutting.







May you be half an hour in Heaven
Before the Devil knows you're dead.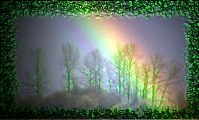 Thanks Pam

May the hinges of our friendship never grow rusty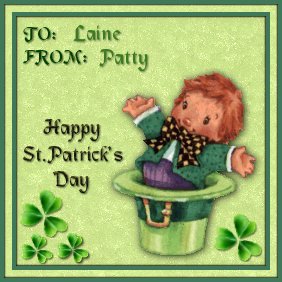 Thanks Patty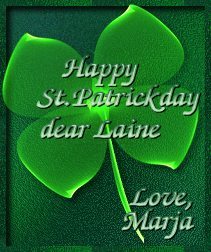 Thanks Marja







A Clover For You..






Please Click Next for More St Patrick's Day Gifts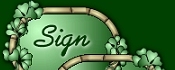 Music: .Shamrock. Courtesy:

Irish Eve's Midi's

Copyright ©Laine Caudell *2002* - 2008
.All Rights Reserved.