Blue Ridge Parkway





There are no commerial billboards or vehicles allowed along the road. There is a speed limit of 45 mph. Slow enough to also stop along the way to see the sights.

There are 27 tunnels along the way. Minimum height is 10'6" maximum height is 21'6", shortest is 150' longest is 1434'. If you plan on driving a motor home call ahead to be sure your vehicle will fit.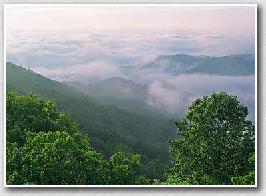 The Blue Ridge Parkway was started in 1935, by the time WWII was done it was half way done. By 1960 all but 1 section was done. The last section was done in 1987. There are over 100 trails and of that there are over 350 miles of trails.

The mineral Quartz is mined here and is of the purest quality. So much so it is used in the making of computer chips.

The Blue in Blue Ridge is made from the hydrocarbons released by the forest. The forest is rich in vegetation and trees. All this work done by nature gives the Blue effect.



Everything found for the tour was found using the search engine:



and a little more info from my hubby who has traveled part of the Parkway.



~hubby Andy & me Kathy~






Thanks for stopping by to take the tour. Please sign the guestbook.







OR Sign the guestbook from the USA Drifters