<!- Contents ->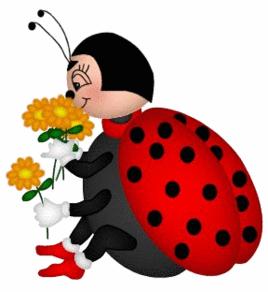 This site formerly belonged to llladybug aka Gail. She deleted her site in October of 2006 and asked me to take move and take over maintenance of her site. I was glad to do it. If you have any questions or find a copyrighted image on this site, please E-Mail Me!
You are free to use these graphics for your own personal webpages, but I ask that you upload them to your own files.

Ladybug Neighbors & Pals
Bee on Flower With Sunny Good Morning
Teddy Bear in Bee Suit With Bluebird
Another Teddy Bear in Bee Suit
Blue Butterfly With Pink Wings
Strange Bug in Brightly Colored Shoes
Putrid Green Bug in Blue Shoes
Carrying Big Stick
Green Bug in Red High Tops
"On The Mark"


<!- End Contents ->