Hello there! Thanks for swimming on into my "home". As you can probably tell, I love anything that has to do with the ocean. I grew up in Staten Island, N.Y. (hope you don't mind if I don't say when!) "L" My big dream was to be able to visit the crystal clear blue waters of the Caribbean. Getting married & having children seemed to come first.

The thought of raising children in a city environment, was not my idea of what was in their best interests, so we moved to a small town in upstate New York, where we felt the education would be of higher quality. The move paid off but the marriage didn't!


I met, fell in love with & married Paul and together we finished raising our three children Patti, (Bubs), Charles, (Dolfan) & Melissa (Dolly). All three are happily married now with children of their own. Each one has two, which means I'm a grandmother of six! I still can't believe it!

We've been on-line now for quite awhile and the people we've met and the friends we've made know Paul better as "Deep Diver"



With Paul, my dreams of visiting the Caribbean have become a reality. We've visited Aruba, St. Maartin, Cancun & Antigua, where we both enjoyed many scuba & snorkelling expeditions. So far, my favorite island is Antigua, which we've visited more than once. Here's a picture of us that was taken there.
I know! He looks entirely too relaxed! so no cards, letters or e-mail on the subject please! "LOL"

Special thanks to our friends, Capricorn & Texas Lady for scanning this pic for us! "super huge hugs" to you both. We now have our own scanner but will never forget their kindness.

(Special update on our favorite vacation spot - after having visited Negril, Jamaica in May, 2001, Antigua has been replaced! To read about our "Negril Adventures" "Click Here")


Paul & I are both avid football fans. We've even installed a satellite dish so we never have to miss a game! We do however have one minor problem - he is a devout "Packer Backer" and I am a die-hard Miami Dolphins fan. When both of our games are on at the same time, I wear my thumb out flipping back & forth! "L" Seriously though, since that seems to be the only problem we have, life is indeed good!

I did however, feel there was one thing lacking in my life. I am by nature, a very nurturing type of person. With children gone and me being retired, there was something missing. I finally figured it out. I needed something to be dependent on me. I adopted a kitten. Not just any kitten, you understand, a "purrfect" kitten. Karma entered our lives. To hear her side of the story click here.


My Hubby's Diver's Den
Family Photo Album
Visit Our Thanksgiving Page
Dolphin Dream's Midis
Sign My Guestbook
View My Guestbook
I Am A Proud Member
Of: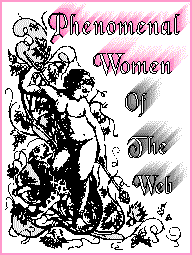 Phenomenal Women Of The
Web
Email: DolphinsDream@webtv.net