Febuary 2002
Thanks Katherine aka HairDark

My Dear Friend Laine,
When you sent out your new url, I begin once again to wander down your path. Filled with so much beauty, peace, love and words of gentle wisdom. You have managed to place a touch of all things within this circle of life. I did not realize how remiss I was in not recognizing all that you give so freely of yourself. Your creativity and love shines through each and every page. I hope that you will accept these awards from me in appreciation for your beautiful web site. I am unsure that I have ever met one so unselfish as you. Faithfully you share with all of us, sites created by many so that we may journey different paths.
Thank you, my dear friend. The Grandmothers past will light your way in the love they offer you.
Love, Katherine aka HairDark
Katherine's Whispers of The Heart
http://www.freehomepages.com/samssami/whispers.html
"Ask questions from the heart, and you will be answered from the heart."
Quote: Omaha
"My spirit grows sad as I look at our children and the faces of my people. And as I think of what we left behind, our moutains, our land and a part of ourselves, I know why this has been called, The Trail Where We Cried."
Chief Dragging Canoe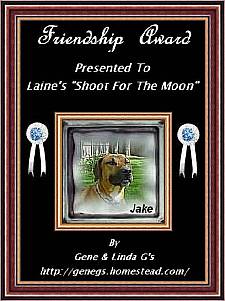 Thanks Gene and Linda (Hugs)
This inspired me to make a "special" award.
I would be honored to have you be the first to receive it.
Thanks Bammo








Copyrighted ©Laine Caudell * 2002
.All Rights Reserved.