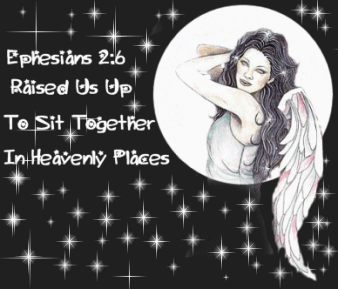 In Heavenly Places



Ephesians 2:6:
Tells us that we are seated with Christ
in heavenly places in Christ Jesus.
What does that mean?
Let's break this fact down by phrases.
"Heavenly places" is not some place in the universe
but rather the heavenly state or new realm
of spiritual experience and activity
into which we are brought upon conversion.
"In Christ Jesus"..
has to do with our status before God
now that we have entered "heavenly places".
Because of our identification and association
with the risen Christ by faith,
God now sees us in Christ.
This is our status or standing or legal position before God.
We no longer stand as guilty or condemned sinners
before the holy and righteous Judge of this universe.
The Judge now sees us as righteous
because we are "in Christ Jesus".
This is not our own righteousness (obviously!),
but rather Christ's righteousness
which is imputed to all who are "in Christ Jesus".




"Seated with Him"



further defines our status or position in Christ.
We can see from Ephesians 1:20-22
that the main idea of Christ being seated (enthroned)
is His exaltation and supremacy and authority.
The fact that we are "seated with Him"
means that positionally we are now associated
with Christ in His exaltation.
Now this is a fantastic fact!
What a position we have in Christ--
and what far-reaching implications.
Can there be any question as to our secure
and permanent salvation if we are already enthroned
with Christ in glory as far as God is concerned?
No wonder we are urged in Ephesians 3:12
to have confidence and boldness to enter into God's presence,
for that is our present position in Christ.
(See also Hebrews 10:19.)
Let us walk in the light of this fantastic fact.



David R. Reid






Jesus Christ - The Way - The Truth - The Life!




But what saith it?
The word is nigh thee, even in thy mouth, and in thy heart:
that is, the word of faith, which we preach;
That if thou shalt confess with thy mouth the Lord Jesus,
and shalt believe in thine heart that God hath raised him from the dead,
thou shalt be saved.
For with the heart man believeth unto righteousness;
and with the mouth confession is made unto salvation.
For the scripture saith,
Whosoever believeth on him shall not be ashamed.
For there is no difference between the Jew and the Greek:
for the same Lord over all is rich unto all that call upon him.
For whosoever shall call upon the name of the Lord shall be saved.

Romans, Chapter 10, Verses 8 - 13



















Artwork ŠJ. Ann Masiker *2002-2005 and used with permission.







Created ŠLaine Caudell *2002-2006 .All Rights Reserved.
Unless Otherwise Noted!

Five Fantastic Facts

Learning What Will Hinder our Prayers to Our Heavenly Father