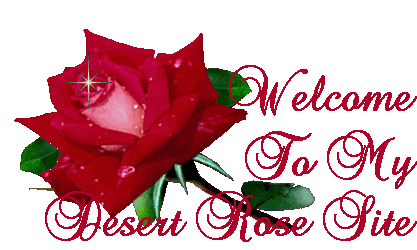 "IN MY HOME YOU WILL READ
POEMS OF GOD'S
LOVE FOR YOU AND ME"




Hi and Welcome again to my Home Page


. My name is Frances (Fran, I prefer)
I am a Southern born and bred Lady


You may perhaps think it odd
that I have Titled my Page "Desert Rose"


To make a long story short
I once made a trip to the Great West
and as they say
once you get that
Desert Sand in your shoes
you will never leave


Sadly, after many years there
I did have to leave


Yes, I brought some sand back
in my shoes, but most important, I brought
the Whole Desert back in my Heart


Hence you will read a lot
of my love of it and God in some of my Poems


I write from the heart
with deep emotions and memories
of my long journey through Life
on God's wonderful earth


I hope you will receive a Blessing
as you read some of them
I would be honored
if you signed my Guest Book


PLEASE NOTICE:
TO RETURN TO THIS PAGE
AFTER READING A POEM
USE YOUR BACK KEY

THANK YOU
"Fran"



Rose

A Land Forgot

My Matilda Memorial Page

A Journey For Jesus

Compassion

Time

Beauty Of Spring

Twilight Time

Making Happy Hearts

Promises Of God

The Big Snowfall

My Little Log Cabin

Pondering Questions

My Special Friends

Give It To Jesus

Why Daddy?

What God Can Do

Wisdom

Autumn Blessings

The Lord Is My Shepherd

At Twilight Time

The Bridge

A Night of Rain

The Valley Of My Dreams

Missing You

My Master

God Walked With Me

Mother


"More of Desert Rose Poems Page 2

"More of Desert Rose Poems Page 3

My Appreciation Page
"Then and Now"


View

Sign

All poetry found on this site are the original writings of The Desert Rose aka Fran Gaines unless otherwise stated and are considered to be under her copyright. Usage of such work is prohibited without express written consent by the author. Any picture located within this site, if under copyright, will be acknowledged or removed upon informing author by writing to


DISCLAIMER



This Site is Designed and Maintained by Fran G. ©




Marvaline's Site Map || Marvaline's Homepage


FastCounter by bCentral